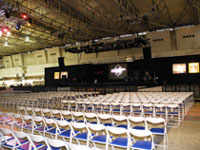 žChairs for a stage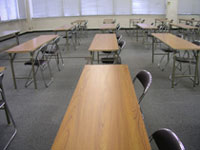 žDesks for a seminar

yContactz
KEI CORPORATION
Business Division
PHONE 03-3225-9155
We accept any contacts
only in Japanese.
'S"–F^"c ( SANADA )
Rental Items
`7days
`14days
Details
Tables
500yen
i1deskj
750yen
i1deskj
DimensionFW1800~D450~H700
Top PanalFDecola Panel/light weight
StockF6,000
Pipe Chairs
300yen
i1chairj
450yen
i1chairj
SeatFBlue or Brown
StockF15,000
Delivery and Collection
Carrying changes depending on delivery area and number of orders.
Carrying charge ione wayjF Wagon 10,000yen
Carrying charge ione wayjF Truck 15,000yenihalfj
Carrying charge ione wayjF Truck 20,000yenifullj
Delivery area F We cover all areas in Tokyo, Saitama, Chiba and Kanagawa.
¦price with consumption tax not included



Carrying In/Carrying Out
› Depending on the number of orders, we charge a cost for an assistant staff.
› In case delivery or collection will be done between 10 p.m. and 6 a.m., we charge an additional shipping cost.
› Also we undertake stage management and removal action. Feel free to contact us for details.


Payment
› Basic unit price is based on one application for one event.
› Payment can be made by bank transfer in advance or COD(collect on delivery).
"¤ We accept credit card payment via mobile devices at the time of delivery.
›Feel free to confer with us on fees for our service. We can change fees to some extent depending on a content of your order.


Direct Collection
› In case you come to our office( located in Yotsuya, Tokyo) and collect rental items by yourself, you do not have to pay shipping cost.
› Rental and replacement service at the office are available on weekdays only. ynot available on Saturdays, Sundays and public holidaysz
› Stock at the office :120 tables/300 chairs. In case we do not have enough stock, we regret to reject your order.
› Please arrange a car with enough carrying capacity when you collect rental items by yourself.
"¥ In case we judge your car does not have enough carrying capacity and it could cause traffic accident or damage on our items, we regret to reject your order.
"¤ In case you collect or return a large amount of items at our office, please accompany a few people. You are kindly requested to load items up by yourself.


Others
Also we have other rental items as system panels, whiteboards, booths for outdoors, microphones and speakers. Feel free to contact us for details.


| | | |
| --- | --- | --- |
| yEstimationsz | | yOrderz |
| | | |