Comic Tresureis male-oriented coterie magazine exhibition held in Osaka, and it started for the purpose of creating new movement of Coterie Magazine in Kansai Area.
Under the key concepts of "Beautiful girls, Videogames, and Moe(萌え)", magazines with amateur creators' free-minded imagination are sold by themselves.This exhibition also serves as a place to deepen interaction among creators and coterie magazine fans.
We set up booths for film or videogame company and spaces for cosplaying, every time a hall is full with over a thousand of cosplayers.
Since the first COMIC TREASURE in January 2003, It has been held twice a year(January and August) at Intex Osaka.


►Aoboo Official Website
AOBOO.JP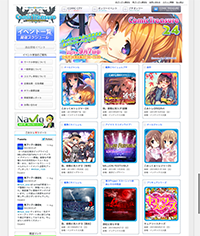 【Data】
【Contact】
►Average age of participants
27.3 (range from 18 to 45)

► Ratio of male to female
male 95% : female 5%

Official report is updated on the official website after every exhibition!
KEI CORPORATION co.,Ltd.
operation division
PHONE +81-3-3225-9155
FAX +81-3-3225-9160
We accept any contacts
only in Japanese.